Everett, Wash. – The Port of Everett will partner with the Everett Parks Department to kick-off its 2nd Annual series of Working Waterfront Harbor Tours. The series consists of five tours exploring the Everett waterfront.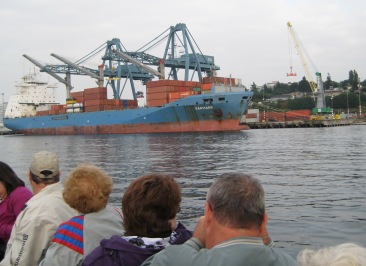 During each free tour, Port staff will host 75 guests on a ferry ride while providing a unique look at the Port's diverse roles along the waterfront. Topics of discussion will include international trade, property development, marina facilities, public access amenities and environmental stewardship.
"The harbor tour program is a great way to connect the community to its Port," said John Mohr, Executive Director of the Port of Everett. "These tours allow the community to see firsthand how the Port is working to revitalize the waterfront, create jobs and grow the local economy."
This summer, the Port has expanded its program to include one extra tour and alternative tour times to accommodate additional guests. Furthermore, the Port is offering three extended tours, traveling down to the Port's satellite shipping facility, Mount Baker Terminal, which handles oversized airplane parts.
This season's harbor tour dates include:
• Wednesday, June 23 at 6:30 – 8 p.m. – extended tour
• Wednesday, June 30 at 6:30 – 8 p.m. – extended tour
• *Sunday, July 18 at 10 – 11 a.m.
• *Sunday, Aug. 15 at 10 – 11 a.m.
• Wednesday, Sept. 8 at 6:30 – 8 p.m. – extended tour
The ferry will board at the Port's 10th Street Boat Launch and Marine Park 15-minutes before each set departure time. *Sunday guests must pay a $3 parking fee per vehicle.
Don't wait to sign up. Space is limited, and children under 16 must be accompanied by an adult. To check availability and make seat reservations, call the Jetty Island Kiosk at 425.257.8304.
For additional information, please contact the Port's Communications Administrator Lisa Lefeber at 425.388.0617 or by e-mail atlisam@portofeverett.com.